Let me start by saying I am not super romantic – this article is all inspo from my husband Todd. The stuff he does gets a lot of "aww's" from my sisters and friends and then right after that they immediately look at their partners and say "ugh, why don't you do that!" The running joke is "get yourself a Todd."
Todd actually asked me to stop telling people about the nice stuff he does but I can't help it. I love how thoughtful he is and want to share a few of the creative ways he says "I love you" to inspire others.
So here goes:
#1 A Sensual Massage
This is not your typical massage where a guy reluctantly touches your back. Todd gets INTO it. (Maybe he's trying to earn extra points for his own "happy ending" at the end of the massage but if so it usually doesn't work. I'm too relaxed!).
He role plays as a professional massage therapist. He lights a candle and puts on spa music. Before he comes into the room he knocks and says, "Are you ready?" He comes in, tells me his name is Hector, I'm going to be taking care of you today. He asks if I have any problem areas that we need to work on today. He has a special massage lotion he applies and starts with my back. During the massage he makes sure to check in on how I'm feeling asking "How's the pressure?", "If I'm feeling relaxed", lol. I'm not giving up my professional massages, but he gets an "A" for effort!!!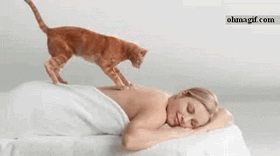 #2 He Writes Poems
I know right now you're all having a flashback to one of the Bachelorette seasons where some weird guy says a poem and then gets cut in the first episode but when it's "your weirdo" it's really sweet! Here is the poem Todd wrote for me on our wedding day:
#3 MEMES
He sends A LOT of memes. Some of them are so sweet. Not the "you are the light of my life" kind of memes but he says things to me over text that he doesn't always say in person. Not sure if it's because we're apart and he's missing me more of it's just that it's easier to say the things you mean over text. He also sends a lot of really funny stuff and I would say that's the #1 way we say connected.
#4 We Dance
OMG as I'm writing this I'm so embarrassed but it's true. It's not all the time but sometimes randomly. It's not planned out either, we'll just start hugging and then start dancing.
We live in a condo and have a lot of neighbors that can see in and I have thought a few times what they must think if they see us dancing in the living room. The last song was "The Rose" by Bette Middler and I'm writing this now with my sister and my brother rolling their eyes and saying, "Bette Middler??!"
Some say love, it is a river, LOL
#5 Surprises
For Christmas he planned a weekend trip for us to Las Vegas. He planned everything out and it was a total surprise, I had no idea. But what was more special then the trip is that he created a book of our itinerary of what we were going to do on our trip, the hotel we were staying at, the restaurant we were going to eat and the show we were going to see – a Rascal Flats concert.
He makes homemade cards. You know like the ones you made for your mom for Christmas. One time, he tapped a bunch of index cards like a book, lol.
One night I had a super long day at work. I had to commute from San Diego to LA, about 3 hours each way, and I walked in around 7:00. All the lights were off and there were a bunch of candles lit. Todd, who doesn't normally cook, had made bow tie pasta and chicken parmesan. What's even cuter is he was all dressed up, and he looked a little flustered and was sweating a little. He wanted everything to be perfect.
There are things I do for Todd too (but that's for another article). This one is all him. And I know all of these romantic gestures may not last – once we have the twins and life gets even crazier – but I hope that we can look back on this article and remember to keep investing in us too.
Check Out Our Relationship App for Couples
Featured couple: Todd & Lindsay
Storyteller: Lindsay @lindsay2310
Together since: 2014
Edited by The Coupled